"That's the reason they're called lessons, because they lesson from day to day."
Lewis Carroll–from Alice's Adventures in Wonderland
Lessons at Murphys Music Company can be a great way to expand your musical knowledge and have fun playing your instrument. Playing music is a great way to relax and learning a new skill can improve many areas of your life.
While we can't guarantee they will "lesson from day to day" they will provide a great creative outlet and fine tune your overall musicianship.
Our lesson program takes place in our exclusive glass enclosed, fully fortified, insulated and comfort controlled anti-gravity studio space. That's where we teach Beginning Guitar and Beginning Ukulele. We can also record and edit or master your performance or practice session. Ours is a private lesson program based on a monthly fee with one hour, your hour in the studio with the instructor, each week at the same time. The rest of the week you should practice the instruction and any problems or discoveries brought to the next class meeting with the instructor. Many times the instructor can make all the difference between success or failure, and we wish you not just to succeed, but to have FUN in the process.
Your assigned hour in the studio is your time with the instructor, and if you cannot attend 24 hour notice is suggested and a class can be rescheduled within the same month, studio scheduling permitting. Any rescheduling should be accomplished within the same month. Due to the complexity of modern life, sometimes missing class cannot be avoided, and we are happy to accommodate your schedule. If it's due to a wedding, bat mitzvah or trip to Disneyland or Hawaii, we would like to be invited along, and given enough notice to reschedule all our lessons. We don't want to miss a lesson, especially yours.
We maintain a full roster of local music teachers who teach many different types of instruments and we carry the books and supplies those teachers require and recommend. We can also suggest books and materials for your own study program. Call us or come by to browse our selection.
For most music lessons and beginning players an electronic tuner is essential, almost more than the book itself. We stock may kinds of tuners and can make recommendations. We can also check your instrument before you start lessons to make sure that there are no animals in there or anything dangerous, and that it is in good playable condition. Often if a guitar or ukulele hasn't been used for some time, it will benefit from cleaning, new strings and checking for proper adjustment. A new student should have advantages, not a troubling instrument, to put success within their grasp.
Go to our Finger Execises page for some great pre-lesson warmups!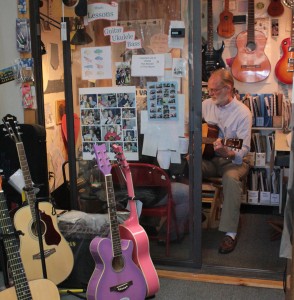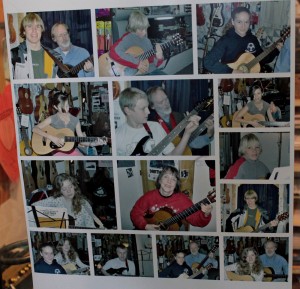 88 W Highway 4, Murphys, CA 95247 | (209) 728-8687