Located on Highway 4 in Murphys California, Murphys Music Company is a full service music store featuring a wide selection of instruments, accessories, sheet music, instructional material, repairs and lessons. 
We are dealers for Martin, D'Addario and Ernie Ball strings and have strings in stock for guitars, ukulele, violins, mandolins, banjos, dulcimers, and cellos.  We sell instruments of all kinds including guitars and band instruments and everything in between.  If you don't see it in the store we can try to order it for you.  We are dealers for all the major print music companies like Alfred, Hal Leonard, Mel Bay, Kjos, and we are happy to have you browse our selection and to order any book for you if we don't have it in stock. 
We do repairs and adjustments on instruments of all kinds. Our repair department can do restorations and rebuilding of instruments. Many minor repairs and restringing can be accomplished right on the premises, however restorations and larger repairs, those which may require more time, superior fire-power, or nuclear weapons, are taken to our well-stocked, top secret, controlled access, CIA underground basement laboratory, which is at an undisclosed location in a blank space on any map. There, in climate controlled comfort we can carefully evaluate, disassemble, or rebuild your instrument, away from prying eyes or inappropriate questioning freeloaders. Only personnel with appropriate top security clearances and very high levels of training are allowed in or to touch your instrument or to give advice. Well, except for Smokey, the laboratory cat, who is in charge of seeking comfort at all times.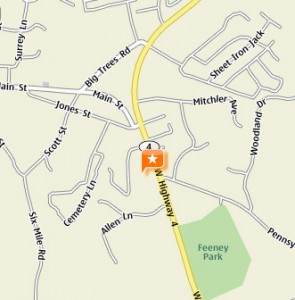 88 W Highway 4, Murphys, CA 95247 |  (209) 728-8687